Although retractable screen doors may seem very simple and straightforward, there's actually a lot more to them than what meets the eye. Not only is the technology itself advanced, but there are also many different customization options for retractable screen doors. Contrary to popular belief, retractable screen doors are not one-size-fits-all. Here at Screen Savers Plus, we actually custom build each retractable screen door according to our customers' needs.
But what happens in between the initial phone call to our team and the lovely breeze running through your new screen door? That's what we're here to talk about today. In this guide, we'll take you through all of the customization options for your retractable screen door. We'll also go through what the process of getting a retractable screen door will look like for you. Let's dive right in with the customization options.
Customization Options:
When it comes to customizing your retractable screen door, there are a few main aspects that you can set up as you'd like.
Door Type & Size
One of the first questions that our team will ask you is what type of door you want to install the retractable screen door on. Here at Screen Savers Plus, we can install retractable screen doors on:
French doors

Double doors

Single entry in-swing and out-swing doors

Sliding glass doors

Oversized doors of up to 64" wide and 108" high
Retractable Screen Door Colour Options
Next, we'll go through what colour you'd like your retractable screen door to be. We want to help you find the colour that will match the frame of your door so that your retractable screen door can blend right in. It's important to us that your retractable screen door is both useful and aesthetically pleasing.
For colour options, there are three main categories: standard colours, semi-standard colours, and diamond series colours. Typically, standard colours will match your door frame, however, if we can't find you a perfect match with standard colours, the semi-standard or diamond series colours will definitely work for you. Here's what we have here at Screen Savers Plus for colours:
Standard Colours

Polar White

Midnight Black

Rideau Brown
Semi-Standard Colours

Linen Cream

Sandalwood

Slate Grey

Ex Pebble Grey

Tudor Brown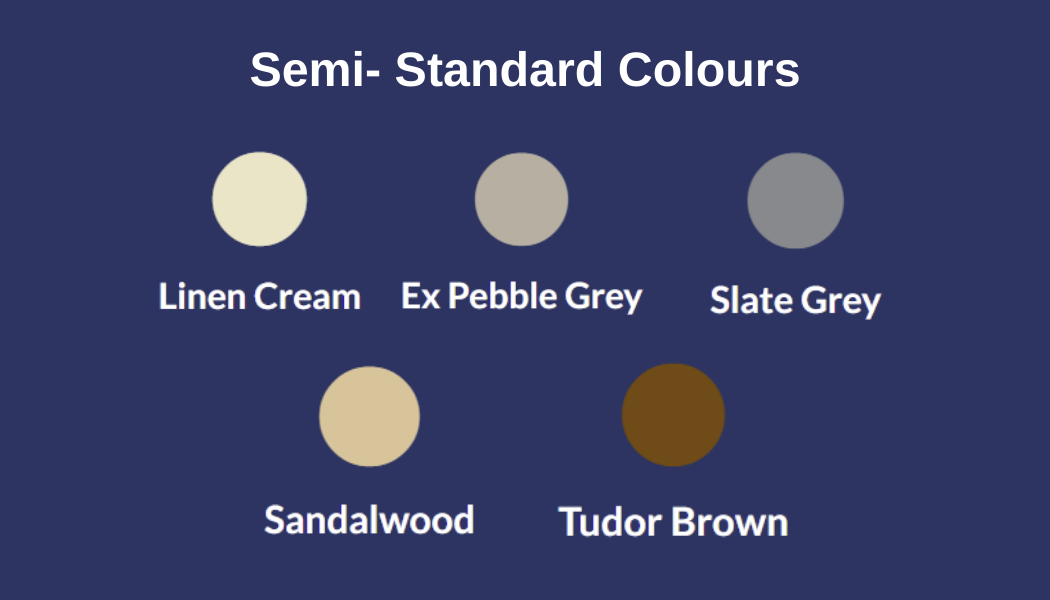 Diamond Series Colours

Furniture White

Ansi 49 Grey

Signal White

Hartford Green

Almond

Evergreen

Oyster Grey

Seal Beach Green

Wicker

Autumn Leaf

Mocha

Sundried Tomato

Bronze Metallic

Burgundy

Metallic Silver

Metro Brown

Gloss Brown

Charcoal
Mesh Types
Last, but not least, our friendly, knowledgeable Customer Success Team will help you to decide on the type of mesh that will work best for you. Believe it or not, there are actually five different types of mesh that we can put in your retractable screen door. Each one provides different benefits and is suited for different customer needs.
While our customer success team is chatting with you, they will inform you about which of these mesh types is available at the time of your order. If you have any further questions about the benefits and purposes, feel free to ask away!
Standard Mesh

Our Standard Mesh is just that – standard. Standard Mesh is made of PVC coated fibreglass and is partially transparent. This mesh is designed for improved strength and durability so that you'll get to enjoy your screen for as long as possible.

Pet Mesh (TuffScreen)

Our Pet Mesh or 'TuffScreen' mesh is designed to maintain its integrity even with small animals around. It is made of a stronger, scratch-resistant, vinyl coated polyester mesh that is much more resistant to the typical damage that small pets can cause on screens. We recommend this type of mesh to our valued customers who have little furry friends running around at home.

No-See-Um Mesh

If you haven't heard of no-see-ums, thank your lucky stars! Our No-See-Um Mesh is designed to keep these tiny little critters out of your space to help you avoid their nasty, itchy little bites (along with all of the other bugs). This mesh has an incredibly small, tightly-woven design that makes it excellent for keeping the bugs out. No more bug bites!
Now that we've gone through all of the different customization options that our Customer Success Team will take you through, let's get into the process.
Our Retractable Screen Door Process
We'll help you understand how the entire process of getting a retractable screen door will work for you from first contact to Bringing in the Breeze!
1. First, you'll chat with our Customer Success Team.
Whether this starts with you entering an inquiry form on our website, you directly calling in, or you coming in to visit our showroom, one of our Customer Success Team members will chat with you. We'll ask you some questions about what you're looking for and then we'll get into the customization details with you. First, we'll go through the door type and size, then the colour, and finally the mesh type that you desire.
If you have any questions, this is the time to ask them! Our Customer Success Team is very knowledgeable about our retractable screen doors and will be able to get you all the information that you need.
2. If we need to, we'll get some photos of the space.
This step won't be necessary for every customer. If there is anything that you think will get in our way or that you're worried about when it comes to installation of the retractable screen door, we'll get you to email us some pictures.
If our team needs to, we will review these images and the information that you provided us during our conversation.
3. Once we have all of the information we need, we'll get your quote approved.
Next, we'll get the financial stuff out of the way. If you would prefer, our team can send you a quote with the details of your purchase that you can manually approve. Or, we can also take over-the-phone approval as a COR certified company.
4. Next, we'll book your installation appointment.
Once your quote is approved, we will get in touch with you to get your installation appointment booked in at the time that works best for you. Depending on whether your retractable screen door will be installed on the inside or outside, you may or may not need to be at home when our technicians come by. Don't stress though – our team will make sure they discuss all of this with you before they book the appointment!
5. Our technicians will then come and install your custom built retractable screen door for you.
Our technicians will come to your home with all of the tools and materials that they need and will install the retractable screen door on the doorframe of your choice. Typically, these installation appointments will take about an hour to complete.
6. We'll do a satisfaction walkthrough with you before we leave your home.
After your retractable screen door is installed but before we head to our next appointment, our technicians will do a satisfaction walkthrough with you. They'll also show you the ropes to make sure that the retractable will be as useful as possible for you from there on out! Once you're all set, we'll leave you to enjoy your retractable screen door.
7. You'll get to sit back and enjoy the breeze!
This last step is the most enjoyable part of the process for you! You simply get to sit back and Bring in the Breeze. How fun?!
---
So there you have it – the entire process from first contact to customization to enjoyment of the product.
Call us today at 780-910-6688 to get started on your retractable screen door!