Five Star Holiday Décor is part of an international exterior holiday lighting franchise. Let us help you install quality Christmas lights on your home or business to spread holiday cheer in your neighborhood. We are focused on giving Edmonton the best Christmas light installation your house has ever had.
Start with our free Christmas lighting estimate and find out how affordable decorating your home for the holidays can be. Contact us today to schedule your free estimate. Our friendly staff will help you set up an appointment with one of our estimators. The estimator will to come to your business or residence and evaluate your decorating requirements. Our estimators can even make expert recommendations for how to best dress up your home's exterior for the holidays.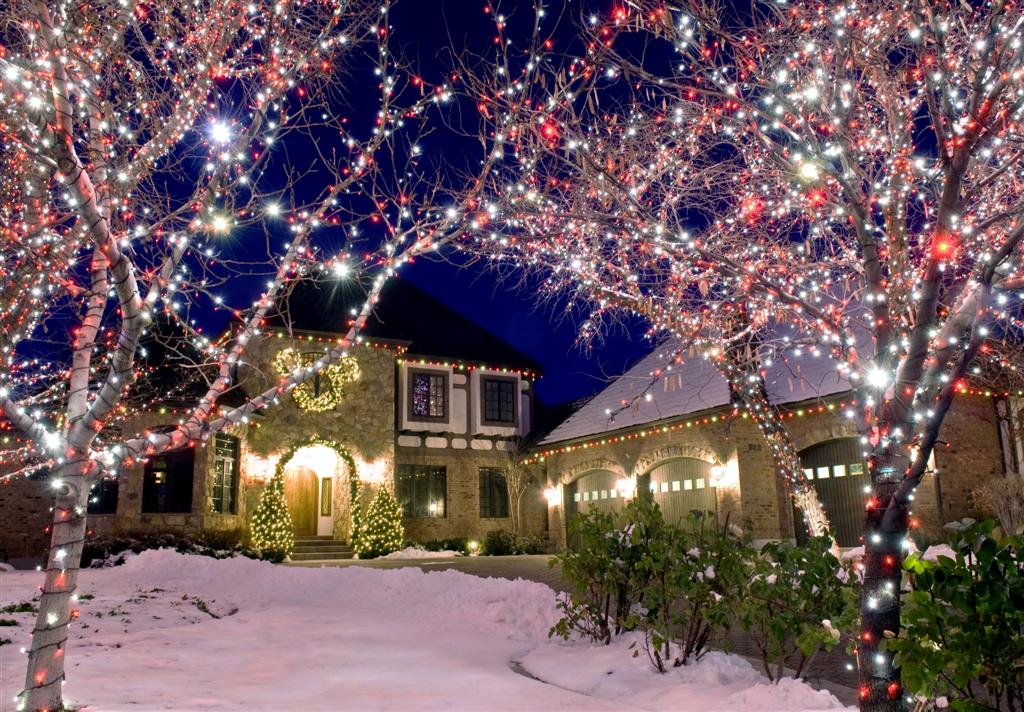 Five Star Holiday Décor is more than outdoor Christmas light installers. We are a full-service exterior holiday decoration service. We will resolve all of your exterior holiday lighting needs, by custom fitting lights to your home and offering maintenance all season long. We also include removal and storage between holiday seasons as part of the packaged deal.
We have been installing Christmas lights for years and know the tricks to make your holiday lights display shine. Five Star Holiday Décor has teamed up with specific vendors to keep updated with all the latest holiday lighting technology and the best quality lights. Because we believe in doing the job right the first time, we only install the best quality lights. We design creative displays that will look fantastic on your home or business.
Five Star Holiday Décor installers are dedicated to giving your Christmas lights display the 'Five Star Touch.' We offer outdoor holiday lighting and Christmas decoration installation within your budget. Each installation is completed on time and is safe for the environment. We are focused on our customer's satisfaction.
Program Includes
Custom display design
C7 commercial grade lights
Timers for automatic display on and off function
Extension cords included for free
Installation
Maintenance during the season
Removal and storage after the season is over
Residential outdoor holiday lighting
With all the fun of the Christmas season, allow Five Star Holiday Décor to make it all the more special with a festive holiday display on your home. We'll give your home the "Five Star Touch." Our landscape lighting technicians will make your home look amazing. Our commercial grade light strands will make sure your home looks great all season.
Our goal is to make your home look exactly the way you envisioned for the holiday season. We will only install the best quality lights to insure your Christmas display looks great all season long. Our LED lights are energy efficient and cost less to use. Five Star Holiday Décor installers will work alongside you to design the lights display you always wanted to see on your house for Christmas. What's more, the final design will fit in your budget. We offer a packaged deal that will take care of all your holiday lighting needs all season long. This package includes installation, maintenance, and storage.
Commercial Outdoor Holiday Lighting
Decorating your business for the holidays may seem like an unnecessary hassle with the busy holiday season ramping up. You don't have time to get the runaround from Christmas light installers who don't know what they are doing. Getting the right people to do the job will save you time and earn your company attention with beautiful Christmas lights. Five Star Holiday Décor not only offers you quality installation and expert design, we offer you peace of mind. Any future holiday lighting needs, including maintenance, will be taken care of.
If you don't have Christmas lights on your building, it's almost invisible when surrounded by other decked out businesses displaying holiday spirit. The exterior of your business says a lot to customers about what is offered inside. Customer's make split-second decisions about a company just based on the appearance of the exterior of the building. Brighten up your business and draw customers in with a holiday lighting display.
Five Star Holiday Décor's expert designers know how to make your building stand out amidst all the other holiday lights. They will work with you to create a design that fits the architecture of the building and atmosphere of the company. We have the experience, tools, and training to bring your Christmas lighting display goals into reality.